106.5 KTMO "The Wolf" is Pollack Broadcasting's 50,000 Watt powerhouse, serving listeners in Southeast Missouri, West Tennessee and Northeast Arkansas for over 70 years.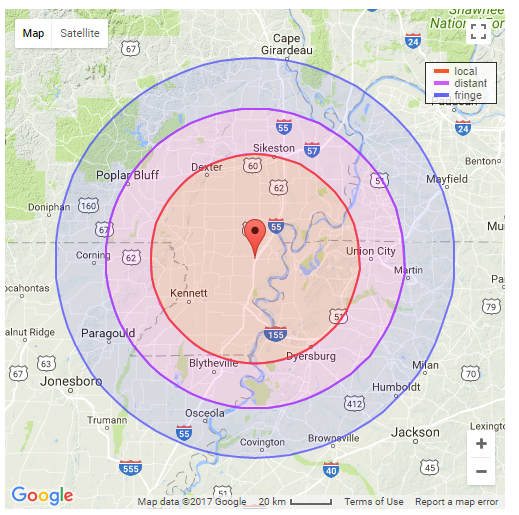 EXCEPTIONAL LOCAL COMMITMENT
Pollack Broadcasting is committed to serving local listeners with local news and information they need. Being LOCAL is the difference, and sets KTMO apart from all the other music sources, and the main reason that 106.5 "The Wolf" is the number one radio station in the area.
106.5 KTMO "The Wolf" is known for playing today's country hits. "Monte in the Morning" starts off the day with a live and local focus, mixing local news, weather, community events and interviews, along with playing today's hottest country hits.
 "KTMO The Wolf is proud of our Mid-Day host, Kendra Raines who was selected as Radio Personality of the Year at the Missouri Broadcasters Convention held in June of 2019. Join her for "Mid-Day's with Kendra, from 10am until 3pm each weekday.  She will put a smile on your face and make your workday much more fun!
Afternoons with Ty" each afternoon from 3 pm until 7 pm, taking listeners home with a smile, while giving them any breaking news or traffic information they need, plus reminders about things going on that evening in the area.
106.5 KTMO "The Wolf" is the areas legendary home for St Louis Cardinal Baseball. We also keep listeners up to date with local sports news, from high school coverage as well as area colleges.
LOCAL NEWS
106.5 KTMO "The Wolf" has the area's only full time radio news team, anchored by Steve Patton. Our award winning news team provides the local news and information our listeners need, serving markets without daily newspapers or local television coverage.
Hometown News has been a fixture on the radio for generations, and airs each day at 7 am, 8am and noon. If news breaks in the area, we break in, keeping our listeners informed, and always with a local focus on the communities and people that we serve each day.
The Whats Happenin' show showcases a variety of guests in the community Monday-Friday from 6:00 am- 8:15 am
106.5 KTMO "The Wolf" is also a leader in digital media news updates, keeping our listeners informed with Facebook alerts, Text Alerts and news stories and photos posted on our award winning website, www.ktmoradio.com
We take pride in our role as being the REGIONS DOMINANT RADIO NEWS SOURCE.
CREATIVE DEPARTMENT
106.5 KTMO "The Wolf" also features an award winning production department, winner of the Missouri Broadcasters Radio Commercial award the last two years.
Our product department is spearheaded by Kendra Raines, who brings years of experience to our advertising clients, to write commercials that will get results and the response you need and deserve.
106.5 KTMO "The Wolf" will then record your commercial, voiced by our on-air staff, or talent at the Pollack Broadcasting television and radio stations, to provide your business with that unique voice and image you desire.
DIGITAL OPPORTUNITIES
Contesting / Promotions: KTMO is the LEADER in developing contests and promotions that generate leads, create foot traffic, encourage social engagement, grow email databases and collect data.
Texting / Keywords: We can generate a contest or campaign for you specifically using "keywords". Its a great way to offer coupons or discounts to shop your business.
Website: Advertise on the area's most viewed responsive website.
Media Blasts: We can email your personalized marketing message to over 10,000 consumers. Includes Facebook.
Electronic Newsletter: More than 10,000 email subscribers stay informed about community happenings via our weekly electronic newsletter.