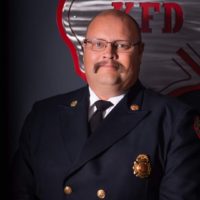 Kennett's new fire chief is someone who knows the job well. Lance Davis, an over 20 year veteran of the department, served as assistant chief since 2019. He was named chief by the City Council this week. Davis said that the department accomplished a lot under former Chief Paul Spain. Davis is proud of those accomplishments but is now looking forward.
The new chief has a message for the citizens of Kennett.
Hear more of Davis' comments on the Friday Hometown News at 7 am, 8 am, and Noon on The Wolf.