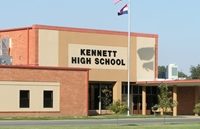 The Kennett School Board met this week. During the meeting Superintendent Dr. Chris Wilson reported the October enrollment for the district was down 25 students from last month at 1,873 students. That's an increase over last year, however. The average daily attendance across the district was 94% — up from last year as well.
For the month of October, the district served 39,586 breakfast and 39,530 lunch meals.
The board approved Tuesday December 15 as the opening day for filing for a candidate for the Board of Education. There are two openings; they are held now by Matt Poole and Matt Shetley. Filing closes at 5 p.m. Tuesday, January 19.
The Board accepted two retirement letters: Jane Gibson, a KHS Special Education teacher's aide; and Leigh Scales, KHS Spanish instructor. Both of those retirements are effective at the end of the school year.