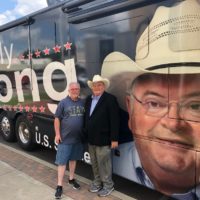 The Billy Bus wound through the Bootheel Monday. News Director Steve Patton spoke briefly with Congressman Billy Long, a GOP candidate for US Senate, outside the Dunklin County Courthouse.
Blunt served the 7th District, representing the southwest part of the state, until his election to Senate; Long has represented the district since 2011.
Hear more of Long's comments on The Hometown News at 7 am, 8 am, and Noon on The Wolf.