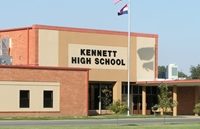 The Kennett Indians have a new football coach. The Kennett School Board, during its monthly meeting this week, named Andrew Webster as the new coach, succeeding Joel Wyatt, whose resignation the board also approved. Wyatt is going to Willow Springs.
Along with Webster, two assistant KHS football coaches were approved: Jim Tidd and Kevin McCaig.
The Board heard that enrollment in the district was 1,795 students in May — a slight increase over April. During May, the district served over 29,000 breakfast and just over 30,000 lunch meals.
The non-resident tuition rate was set at $8,435 for the next school year — that's a $25 increase.
In a couple of other personnel matters, the Board employed Lana Byrd as a third grade teacher, Seth McAfee as a KMS social studies teacher, and Ward Billings as a KHS social studies teacher for the next year.