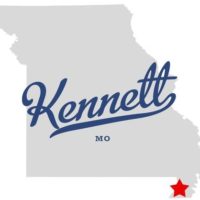 According to a news release from the Dunklin County Prosecuting Attorney, 39 year old Eric Petro of Kennett was charged today with the class A felony of murder in the second degree and the unclassified felony of armed criminal action.
Petro is not yet in custody. Prosecuting Attorney Nicholas Jain asks anyone with information about his location to contact their nearest law enforcement agency or the Kennett Police Department at 573-888-4622 but warns the public not to approach him as he should be considered armed and dangerous.
This charge stems from an incident Friday night in Kennett. The Kennett Police Department received a call of shooting at Petro's house. When police arrived, they found Master Harper wounded lying in the driveway of that residence. He was transported to Arkansas Methodist Medical Center in Paragould where he later died of his injuries.
Investigators learned that witnesses heard an argument and a gunshot. When the witnesses went outside, they saw Eric Petro get into a dark colored SUV and leave the scene. Law enforcement officers found a shell casing that was the same brand as ammunition found inside the defendant's home.
Dunklin County Prosecuting Attorney Nicholas Jain filed the murder and armed criminal action charges against the defendant and a warrant was issued for his arrest ordering him to be detained without bond. This investigation is being conducted by the Dunklin County Major Case Squad, the Kennett Police Department, the Missouri State Highway Patrol, and the Dunklin County Sheriff's Office.