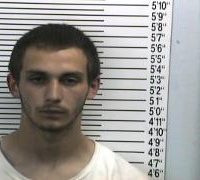 Chief of Police Billy Joe Stanfield responded to a burglary in progress call at Cobblestone apartments, upon arrival, he made contact with a man who was later identified as being Connor Denton, of Cooter, Mo., who then attempted to run.
Chief Stanfield grabbed ahold of Denton who continued resisting arrest and after a brief scuffle Denton was handcuffed and detained without any further incident.
Chief Stanfield received medical treatment for minor injuries he received during the arrest of Denton.
Steele Officer Eric Reno arrived on the scene to assist Chief Stanfield and subsequently transported Denton to the Pemiscot County Jail.
Chief Stanfield filed a report with the Pemiscot County Prosecuting Attorney and a warrant was issued on 19-year-old Connor Denton charging him with attempt burglary second degree, and resisting/interfering with arrest for a felony with bond set at $50,000.00