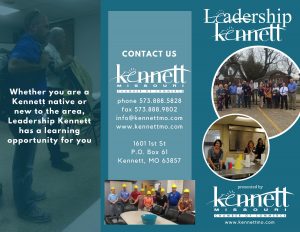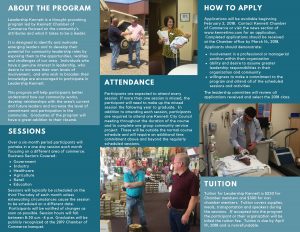 Leadership Kennett is an interactive program focusing on the community's attributes and what it takes to be a leader. Participants are exposed to the opportunities, realities and challenges of our area. Individuals who have a genuine interest in leadership, who desire to increase their own levels of involvement, and who wish to broaden their knowledge are encouraged to participate in Leadership Kennett. Graduates of the program will have a great addition to their résumé.
One business day each month for six months, participants will engage in a session focused on a different area ofcommerce. The course covers:
Government, Health Care, Industry, Education, Retail, and Agriculture.
Participants will enjoy opportunities to tour and learn about many different businesses which impact our economic make-up. For more information on this program and for an application click the link http://www.kennettmo.com/cmsAdmin/uploads/application-leadership-kennett-2018.pdf
documents. Applications are due by March 16, 2018. The Leadership Committee will review all applications and notify the selected class by April 2. The
selected class will be publicly recognized at the Annual Chamber Banquet on May 24, 2018.