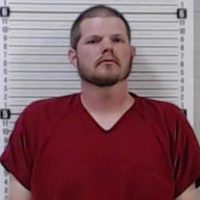 Adam C. Brown, 37, of Hornersville, appeared before Greene County District Judge Dan Stidham for a probable cause hearing Thursday, August 10, at 9:30 am where a $500,000 bond was set for Brown.
The hearing was held in the judge's chambers.
The public was informed as to what took place, following the hearing.  Judge Stidham said officials wanted to make sure they were careful and deliberate in the process Thursday morning.
A $l million dollar temporary bond was set Monday at Browns first court appearance, when he told the Judge he did not have access to a phone at the Greene County Jail and could not contact a lawyer to represent him.
Authorities went to the Valero convenience store and Gas Station in Marmaduke on Highway 49 last Friday morning after receiving a report about the shooting.
Brown is suspected of shooting and killing Jeremy R. Green, 38, of Marmaduke after a heated argument turned violent.
According to witnesses, Brown fired four shots at Greene, killing him in front of his daughter.