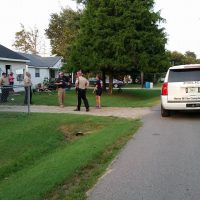 Press Release
On August 8, 2017 a search warrant was issued through the office of the Dunklin County Prosecuting Attorney and signed by the Honorable Judge John Spielman for 600 block Schultz street in Hornersville, Missouri.
The search warrant was served by members of the SEMO Drug Task Force, The Dunklin County Sheriffs' Office, The Missouri Highway Patrol and the Campbell Police Department K-9 Unit.
A search of the residence resulted in the seizure of a quantity of methamphetamine and other drug paraphernalia and a weapon.
Two subjects were taken into custody  Michael Gene Dempsey, 58, of Hornersville and Latisha Leeann Harmon, of Senath, Missouri.
Both individuals were charged with Possession of Controlled Substance  (Meth)
Bond for Michael Dempsey was set at $50,000.00 cash only.
Bond for Latisha Harmon was set at $30,000.00 cash only.
Both subjects are scheduled for an appearance in the Dunklin County Circuit Court on August 10.