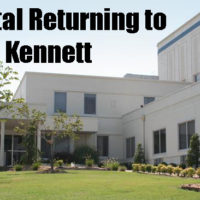 It appears the old hospital will be a new hospital. Flanked by members of the city council and others, Kennett Mayor Chancellor Wayne announced plans for Main Street HealthVentures, a Billionaires Fund Group affiliate, in conjunction with support from the city and local banks to renovate and revitalize the old hospital building. During a brief news conference on the parking lot of the building Thursday, Wayne thanked all those involved and admitted there's more today beyond Thursday's announcement.
Kerry Noble, who was once CFO of the Dunklin County Memorial Hospital and later CEO of Pemiscot Memorial Hospital, is a consultant on the project. He said the group had requested a license for a 49 bed, acute care hospital — a full service facility.
The estimate is that renovation will take 12-18 months.
Full Press Conference