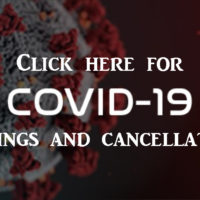 List of Closings and Cancellations 
Central Church of Christ in Caruthersville is cancelled until further notice.
Kennett Rotary Club Bowling tournament is postponed til April 3rd as of right now.
Municipal Court in Steele and Cooter is cancelled until at least April 9th. Please contact the municipal court  in person or by calling  573-695-3170 after April the 3rd to verify that court will be held!
The Kenny Rogers Children's Center will be closing for all therapy appointments from 3/20/20 – 4/3/20. Our plan is to re-open on Monday, 4/6. We will keep you updated if there is any change to this schedule based on future recommendations from our local, state
and federal governments. Please stay home and safe during this trying time. If you have any questions, please do not hesitate to contact the Center!
The Oaks Nutrition Center in Kennett-Caruthersville-Portageville and New Madrid are open but all meals are carry out only. The dining rooms are closed.
The lobbies of Kennett City, Light, gas and water consolidated water district 1 and Pemiscot-Dunklin Electric are closed and they ask that you pay your bills by using debit or credit card online, over the phone or at the drive thru or walk-up windows.
Paragould Cinema 8 is closed until further notice.
Lobby of Kennett Trust Bank closed starting Monday March 23rd.
Starting Friday March 20th Harris Pharmacy will only have drive-up window service. Please contact the pharmacy if you need any assistance.
Hayti Nutrition Center – effective Monday March 23rd will be delivery or pick up at the West door only, we will not be having anyone come inside to eat for the next 2 weeks at which time we will re-evaluate the situation.  We want to keep our seniors and employees safe and provide our seniors with a hot meal. If you have questions feel free to call the center at 573-359-1148 Rhonda Green
Hayti Park Building – will be cancelling all rentals on our park building effective today March 20th at 4.pm. until April 10th and at that time we will determine if longer is needed.  We will be calling everyone that has booked the building and offer to reschedule at a later date or return your deposit. We are very sorry for the short notice but with the spread of this virus and state and federal regulations we want to keep everyone safe by not allowing large gatherings in the building. If you have questions please call our city hall and speak to Steve Harris to reschedule. 573-359-6340 extension 4
Hayti City Hall – will continue to do business in our lobby areas at our windows only, we continue to sanitize our doors and counters daily, and we also have a drop box for your water bills in our parking lot on the south side of the building. If you need to speak to our water clerk Martha Martin you may call her at 573-359-6340 extension 3.    If you need to meet with our city clerk or code enforcement officer we ask that you call our city hall and make an appointment if they cannot help you over the telephone. We are asking for NO VISITORS at our city hall as we try to keep our employees safe and keep business open. The phone numbers to reach city hall are City Clerk Karla Laws 573-359-6340 extension 1 and Code Enforcement Frank Rose 573-359-6340 extension 5.
Hayti Municipal Court – has been postponed and if you have any question about your court date please call and speak with court clerk Terri Hall or an officer at 573-359-6367.  If you have an emergency as always please call 911
Hayti Library – will be open but please call before you come and speak to Librarian Amy Boone 573-359-0599
Hayti City meetings- In order to limit large gatherings at public meetings, the city will be working toward providing livestreaming and recordings of meetings of the board of aldermen.  Information on availability and accessing these services will be provided in the meeting notices. Citizens are encouraged to submit written requests or statements to the city clerk for inclusion in the meeting minutes.   The meetings will remain open to the public as required by law, but citizens are encouraged to utilize these alternatives to limit then number in attendance in accordance with federal guidelines.
Sunshine Cafe in Senath is closed until further notice!
Kennett Lions Club Pancake Day is cancelled.
Law Office of Josh Tomlin: we are open but phone consultations only.
Pemiscot County Courthouse is closed to the public. They will accept phone calls and emails only. There is a 90 day extension on everything from the license bureau.
Williams Body Shop is open. If you have a vehicle that needs work, now is a great time to get it done since many are staying in and won't need them. Call 333-9910 for an appointment.
The Roundhouse will be open just not for dining in. We will deliver from 11-1 every day. Our hrs will be 6:30-2 every day. Call in and pickups anytime during those hrs. 573-333-1330. We would appreciate your business
Business as usual as The Store—encouraging drive thru with 10% off all food call in orders! 333-3663
Pemiscot Press is open but closed to public traffic. Call 333-4336 or email Christina.williams.news@gmail.com to send in information. If you need to drop something off we can take it at the door.
ReNew You Day Spa is closed for now.
Joplin's is open! We are delivering too
During Caruthersville Public Library's closure for the Coronavirus precautions, Curbside Pick-up is available when our patrons need fresh materials. Another aspect of this is curbside book bags. If you contact us at 333-2480, we can put together a bag of books for you and have them ready for curbside pick-up. Bags can be for specific authors, genres, subjects, kids books, etc. We also have a curated "Little Free Library" on our front porch daily, with all genres of adult books, children's books, DVDs and magazines for all residents to take and keep – even those without library cards. Don't forget that our WiFi is available 24-7, too. Bring a lawn chair and use it as long as needed on the front porch. Let us help to keep you occupied during this time of uncertainty. The Library will be closed on weekends, with no Sunday Movies at the Library or curbside delivery, until further notice because of the COVID-19 emergency. Thank you for your patience and understanding.
Pemiscot Office Supply intends to work hard to meet the needs of our customers during this trying time. Please call 333-4445 and we will fill your orders and meet you at your vehicle. Our doors will be locked so knock or call. Drop offs at the door for UPS packages. We appreciate your understanding.
LITTLE PIŹZA HEAVEN is open Tuesday thru Friday from 3:00-10:00. Saturday thru Sunday from 4:00-10:00. Delivery and pick up everyday! We appreciate your business and all stay safe. We'll all get through this.
Focus Bank is open drive-thru only! Loans, new accounts, etc can be done by appointment if customer absolutely needs to go inside!
Big Daddy's is open! Monday – Saturday 1030-8ish. He has a drive thru and is offering delivery to an extent. 573-922-5044. He would appreciate everyone's business.
The Cotton Gin is open, but office and gin is closed to the public. We can be reached by phone or email if anyone needs anything from us.
Daylight Donuts is open normal business hours! You can come In and get your food to go or use the drive through but no dine-in at this time. Call 333-4399 or 922-8911 for to go orders! We will deliver to the nursing home!
Bernard Insurance is open to customers. You can come by the office to conduct business or you can call us with payments or changes to your policies.
The Bank of Missouri has the lobby closed. Loans and new accounts by appointment only, however, the drive through is open to serve our customers.
Thomas, Speight and Noble, CPAs, formerly McDowell & Middleton, is open, no appointments during this time, drop off or pick up only, you may call the office.
Humane Shelter is closed to adoptions by appointment only. By calling 333 9977 they can check what we have. Only 2 people allowed in at a time by appointment
Cell phone stores are open from 10-5 Monday thru Friday. Caruthersville location also open on Saturdays from 10-2
The waiting room at Sullivan's will be closed for now while the virus is going around. We are trying to do our part to keep it from spreading. We will be taking drop offs only. When you get to the parking lot, give us a call and let us know what you need done and leave your key in the vehicle. When your vehicle is ready… we will call and take your payment over the phone or you may meet us at the door for check/cash payments. We will be wearing gloves/masks when entering your vehicle for all of our protection. Thank you for your support during this time!
24/7 service is still operating as normal!
Hayden Pharmacy is open 8:30-5:30 as usual. If you prefer to have your medication delivered please let them know or if you would like to have curb side pickup please call 573-333-4606 when you arrive!
The Cookie Lady will be running SPRING specials. When you pick up, you don't even have to get out of the car! There will be Dburg delivery service at Tractor Supply as well!
Hays Grocery in Caruthersville is hosting Senior Citizen House from 7 a.m. -8 a.m. Sunday, Tuesday and Thursday!
SEMO drugs of Kennett- Drive thru and delivery only. If you have a list of prescriptions or items needed from out front, please feel free to call ahead and we can have them ready for you. 573-888-8880. We also offer free delivery of prescription medication and or otc items to Holcomb and Kennett. In addition we have proactively ordered a 3-month supply of the most commonly dispensed generic medications, so our patients need not worry about running out of their potentially life-saving medications.
Caruthersville Lions Club has cancelled Bingo till further notice
Jesus Name Tabernacle (JNT) Church will be operating the food truck as planned but at a different location and method. In order to receive a box of food, you MUST be in a vehicle. JNT is located at 1400 HWY U and we will begin handing out boxes at 5pm on March 26th .
Beginning tomorrow, March 25th until Friday, April 10th, only City employees will be allowed inside City Hall in response to the COVID-19 virus. The City did not make this decision easily and is taking these measures to help protect the health of our employees and our citizens. We strongly urge everyone to abide by the statewide order by avoiding all gatherings of 10 or more people and to stay at home if possible. Water bills can be paid online or using the night box. Court payments can also be placed in the night box. Please put all payments inside an envelope and mark which department they are for. City Hall employees will still be working and can be reached by calling 359-6340, extension 1 for the city clerk, extension 3 for the water clerk, extension 4 for the tax collector, or extension 5 for code enforcement. The court clerk can be reached by calling 359-6367. PLEASE SHARE and call City Hall if you have any questions.
Kennett Jaycees Show Me State BBQ Cook Off postponed due to COVID-19 and the associated uncertainty. We will try to reschedule for later in the year if circumstances permit.In the meantime, the Kennett Jaycees urge everyone to frequently wash their hands, practice social distancing and to follow all guidelines issued by health and government officials. Stay safe!
Updated at 6:29 pm March 26th