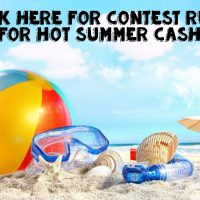 KTMO'S HOT SUMMER CASH
CONTEST RULES
Contest qualifying dates:  July 2, 2019 to September 9, 2019
$1000.00 CASH giveaway date:  September 14, 2019
Harry Blackwell Motors – Malden Missouri
Listen for our Hot Summer Cash Commercial of the Day to play, and then text
"SUMMERCASH" to 86677 to enter.  You must reply "Y" when prompted to qualify, and you may enter one time each day during the contest qualifying dates.  Standard message and data rates may apply.
All qualifiers will be notified by text message on Tuesday, September 10th.  To win, you must be present at Harry Blackwell Motors in Malden on Saturday, September 14th at the designated time, and show the qualifying text message upon check-in from your mobile device.
From all of the qualifiers present, a random drawing will be held and that person will receive the $1,000.00 Cash as our Grand Prize Winner of the KTMO Hot Summer Cash giveaway.
No purchase is necessary to enter KTMO'S HOT SUMMER CASH contest.
Contestants must be at least 18 years old to be eligible to participate in the KTMO HOT SUMMER CASH contest.
Multiple entries per household will be permitted, however only one winner per household will be permitted for cash drawing. Multiple registrations will increase your chance of having your name drawn.  A "household" is defined as any individuals residing at the same address.
As a condition of entering this contest, contestants must agree that upon winning, they will consent to the use of their name, likeness, and all verbal and written communications with KTMO-FM for publicity purposes.
Employees of Pollack Broadcasting Company, their advertising agencies, affiliates, contest sponsors, employees and immediate families of each, and employees of all media of mass communication within a one hundred mile radius of KTMO-FM's main studio are not eligible to win this contest. Immediate family is defined as Parents, Siblings, In-Laws, Non-Dependent and Dependent Children, Grandparents, Grandchildren and Foster Children
As a condition of winning this contest, the winning contestant will be required to sign a release form and affidavit of eligibility to claim their prize. Failure to do so will result in forfeiture of the contestant's right to claim or receive the prize.
All local, state and federal regulations apply. As a licensee of the FCC and a trustee of the public airwaves, KTMO-FM reserves the right to interrupt and/or discontinue any contest or promotion (and not award the offered prize) at the discretion of KTMO-FM management if world events, the national mood, or public safety so warrant.  KTMO-FM reserves the right to disqualify any winner if the contest rules have been violated in any way. KTMO-FM reserves the right to amend the rules to any contest at any time. All decisions of the management of Pollack Broadcasting Company are final.
Although Pollack Broadcasting Company will make reasonable efforts to conduct it's contests substantially as announced or advertised, Pollack Broadcasting reserves the right in extraordinary situations to change or modify the rules of this contest as exigent circumstances may require. In such cases, Pollack Broadcasting will amend the rules for that contest and broadcast the amended rules as promptly as possible.  In such case, the contest will be conducted in accordance with the amended rules.
A copy of these rules are available during regular business hours at the KTMO-FM main office, 1303 Southwest Drive, Kennett, Missouri, and also online at www.ktmoradio.com