RECTOR, AR – A "Welcome Home Vietnam Vets" event is planned for Saturday, March 31, in Rector.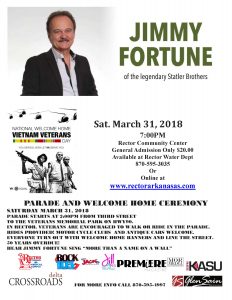 Vietnam-era veterans from throughout the region are invited to Rector to participate in a parade, special afternoon program and an evening concert.
The event will conclude with a mini-concert that afternoon at the veterans park and a full concert that night by well-known country and gospel artist Statler Brother Jimmy Fortune. He and his band have prepared a special veterans-related program which will be held on the stage of the Rector Community Center starting at 7:00 pm., tickets are $20.00 and are available at the Rector water department.